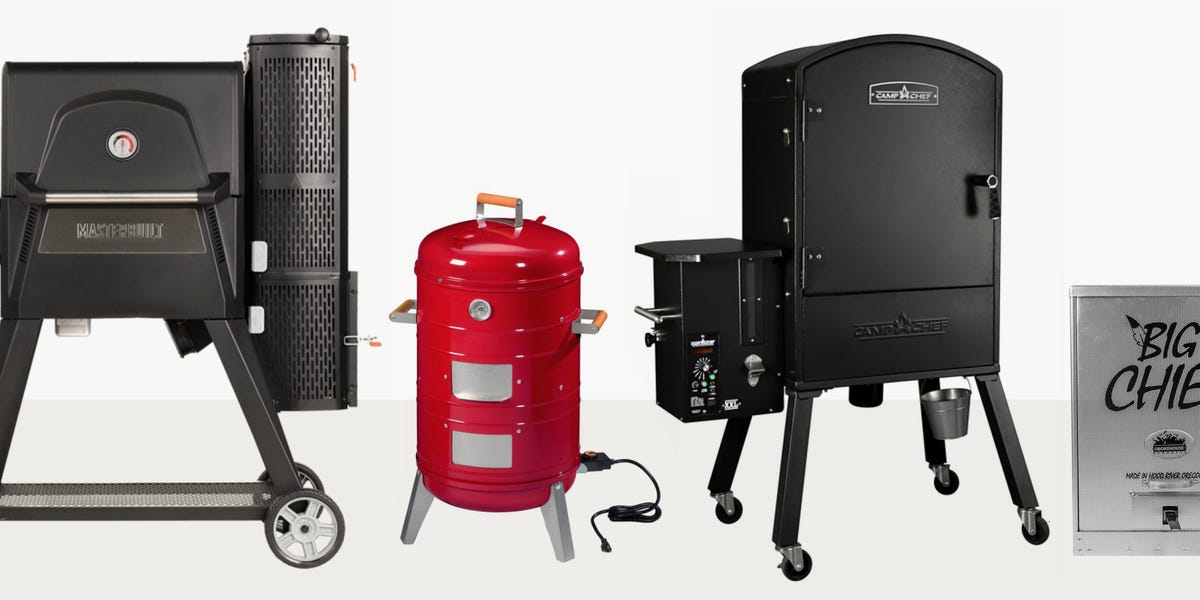 Best Smokers 2020 | BBQ Smoker Reviews
There are more choices than ever when it comes to smokers. What type of fuel? What configuration? The options might seem overwhelming, but we'll explain how they work, help narrow down the choices, and get you pointed in the right direction.
"If you're going to smoke, an offset—the traditional Texas-style smoker—makes the best food," says Jess Pryles, live-fire cooking expert and author of the book Hardcore Carnivore. "Offset is the purest way. It forces you to learn how to run the fire. With an offset smoker, the only way to control the temperature is the air intake. So, if you really want to learn barbecue craft, go offset."
Well, that's great, if smoking food is your passion and mastery of the smoker is your goal. But not everyone has the time, or wants to spend that kind of time learning—a lot of folks just want to make some delicious food. No matter where you fall on the spectrum, we've tested many smokers to select the best options for everyone, from the beginner to the seasoned pro. Check out these top picks, then scroll down for the full reviews and recommendations.
What You Need to Know About Smokers
The traditional offset Texas-style smoker has been the standard for quite a while, but newer technologies are slowly gaining ground. Electric, propane, and pellet smokers are all capable of producing great results, while digital control systems to manage temperature and airflow help shorten the learning curve to produce excellent smoked foods with little experience. Understanding the effort and knowledge required for each type of smoker and fuel will help narrow down which one is right or you.
Types of Fuel
Wood: The traditional fuel, wood is what gives food that smoky flavor everyone is after. Different species of wood are burned to produce various degrees or notes of smokiness. Wood fires produce more ash than charcoal.
Charcoal: Lump charcoal is made by burning wood in a very low-oxygen environment where most of the volatile compounds like water, hydrogen, and methane are released, leaving almost pure carbon. The charcoal burns nearly smokeless, without flames, and at a higher temperature than the wood it was made from. Charcoal also produces less ash than wood. Wood chips are typically added to provide the desired amount of smoke.
Charcoal briquettes are generally made from sawdust and other wood byproducts that have been process into charcoal, mixed with binders, and compressed into the shape we're all familiar with. Briquettes may contain chemicals to bind them or make them easier to light. It's common to add wood chips with these too to get that smoke.
Propane: Liquid petroleum gas (LPG), commonly known as propane, is a gas that is compressed and stored as a liquid. As it's released from its storage tank, it turns back to a gas. Wood chips need to be placed near enough to the propane burner to burn slowly and provide the desired amount of smoke. A lot of people choose propane because it makes the heat easier to manage, and it's cleaner, with only the ash from the wood chips to clean up.
Pellets: Wood pellets are made by processing wood waste down to a uniform sawdust-like consistency and then forcing it through dies at high pressure. Since they're made from wood, it's not necessary to add wood chips to produce smoke. Pellets produce very little ash.
Electric: Electric smokers have a heating element much like an electric oven. This element provides the heat to both cook the food and slowly burn wood chips that provide the smoke. Electric smokers leave very little to clean up without much ash from the wood chips.
Types of Smokers
Offset: Offset smokers have two compartments, a smaller one that is usually to the right or left of a larger one. The fire is stoked in the smaller compartment and the smoke and heat from it are vented into the larger compartment containing the food. Offset smokers typically burn wood, or charcoal with wood chips added. This type of smoker requires more attention to the fire, and it helps to have some experience for getting everything perfect. Experts regard offset smokers as one of the best ways to smoke food.
Vertical or Bullet: Vertical smokers are tall, narrow, and sometimes called bullet smokers because of their shape. In the bottom of the unit, heat from a charcoal fire, a propane burner, or an electric element travels up to the top where there are racks for the food to be smoked. Generally, the food is loaded on the racks from the top of the unit, although some have doors on the side. Wood chips are usually placed on or directly above the fire or heat source. Sometimes vertical smokers are also called water smokers because they have a bowl or pan filled with water between the heat source and the food. Similar to an offset smoker, this helps shield the food from direct heat so that it cooks more slowly. Heat and smoke are controlled by the size of the fire (or heat setting on an electric element), limiting airflow at the bottom, and limiting exhaust at the top. This type of smoker also requires attention and experience.
Box or Cabinet: Box smokers function similarly to vertical smokers, except they typically have front-load doors for both the food and the fire box. From bottom to top, they have the fire or heat source, something to hold wood chips, a water pan or bowl, and then racks for food. Managing the fire, airflow to it, and exhaust out the top is essential to controlling heat, much like the vertical smoker. Note that pellet-fueled box smokers, which includes smokers that look like traditional grills, typically have a hopper to the side and an electric control system.
Control Systems
Due to the rising popularity of pellet grills and smokers that require them, control systems are becoming more common. These typically have a digital thermostat and a fan to manage the fire and temperatures. In the case of pellet-fueled devices, they will also have an auger to feed the pellets to the fire. Some units may also have Wi-Fi connectivity and apps that pair with the system for remote monitoring or control. These systems can remove a lot of the learning curve associated with smoking and long, slow cooking by keeping temperatures and smoke levels consistent.
---
Digital Thermometers
We regard digital thermometers as required equipment, especially when getting started smoking food. Temperature is critical to getting the results you want and be sure that meat is cooked enough to safely consume. If your smoker doesn't come with temperature probes to monitor internal temps, we recommend getting a digital thermometer. There are many options out there, but it doesn't need to be fancy—as long as it measures the internal temps, it's good. Throughout our testing we used a TP-20S model from ThermoPro. It's wireless, with two probes and multiple settings for different types of meats. Wireless units will give you some freedom from being tied to the smoker. Some of the briskets we smoked took over six hours, so it was great to be able work on other tests we had going at the same time. More importantly, it helped us avoid serving overcooked or undercooked meats.
---
How We Tested
Every smoker on this list has been thoroughly researched, evaluated, and used by our team of test editors. Additionally, we survey user reviews and speak with product managers and designers. To test the six smokers below, we prepared the same Texas-style smoked brisket and beef jerky in each one, then used all of them to smoke a wide range of things over a two-week period. We evaluated them based on ease of use, how well they allowed us to control heat and smoke, how easy they were to clean up, and how reliably we could produce a delicious result. If you're interested in a new smoker, chances are we've found one here that is right for you. You'll also find two more smokers that we haven't cooked on but still look like great options at the bottom.
---
―EDITORS' CHOICE―
Masterbuilt Gravity Series 560 Digital
While not strictly a smoker, the Masterbuilt 560 has an innovative method of burning charcoal, making it a multi-purpose backyard cooker. A gravity-fed vertical hopper on the end of the grill stores the charcoal, which is burned from the bottom with the flames. The grill then pulls the heat from that into a large heat diffuser before it rises to the grates. A digital thermostat sets the temperature and controls the fan that feeds the fire. Masterbuilt has an app that pairs with the grill to set and monitor cooking remotely. It comes with one temperature probe, but has ports for three more. Smoking in the 560 is as easy as setting the temperature and a timer. Using lump charcoal will provide a great smoky flavor. And if more smoke is needed, there's an ash bucket that holds wood chips, which will burn slowly as embers fall on them. Our first cook—a small brisket we had on for almost six hours at 220 degrees Fahrenheit that developed a fantastic crust—was so easy and so tasty. And we were able to get results like this every time we cooked on the 560. If cleaning up ash has held you back from using charcoal, Masterbuilt managed to do away with that hassle. Because of the vertical hopper, the charcoal flows down as it burns, with the ash simply falling into a bucket at the bottom. Just open a door and empty the bucket—it's that easy.
---
―BEST VERTICAL SMOKER―
Weber Smokey Mountain
The 18-inch Smokey Mountain from Weber is a standard water smoker. Like many similar models, it has a bottom rack and retaining ring for the charcoal, a large bowl for water, and two racks for smoking food on. But it differs from others in that it's made from heavier porcelain-enameled steel, has a heat shield on the bottom to protect your deck or lawn, and comes with a fitted cover. When we first fired it up to season the smoker, we took the opportunity to get familiar with setting the three air vents around the bottom, as well as the top vent, to hold a temperature. We were able to keep the temperature in the 200 to 275 degree "smoking" range, by monitoring the thermometer in the lid. Smoking beef jerky, we wanted to keep the temperature on the lower side at around 200, which was a little challenging—the temp kept creeping up, so we watched it closely and adjusted the vents as needed. In the end, the jerky smoked a bit faster than we intended because of this. In hindsight, we got a little too much charcoal burning before we started smoking, which generated more heat than we needed. We managed the heat better, when smoking the brisket, and were able to hold close to 225 for the five hours it took to smoke our smallish cut of meat. On longer smoking sessions we appreciated the large door to add fuel and wood chips. The Smokey Mountain is a basic smoker that will require a little experience to use effectively, but will ultimately be worth the time and produce great results.
---
―BEST PELLET SMOKER―
Camp Chef XXL
Smoking really couldn't get any easier than it is with Camp Chef's XXL. It's truly a "set it and forget it" grill, with reliable, consistent results. After just over an hour of assembly, we filled the pellet hopper, plugged it in, and had it heating up for the recommended 30-minute break-in period. The first time we used it to cook, we had to fill the pellet auger tube by turning the control knob to "feed." Once that was done, we put the food in and turned the knob to the desired temperature—that's pretty much all there was to it. The Vertical Pellet Smoker has a range of 150 to 350 degrees Fahrenheit, covering slow smoking to baking temperatures. Two pre-set modes, low smoke and high smoke, hold average temperatures of 160 and 220, respectively, with ample amounts of smoke. The unit comes with two meat sensors that display the temperature via an LED screen. We followed recipes for smoking beef jerky and brisket, and both came out fantastic on the first try. We checked in on the brisket 30 minutes before the time estimated in the recipe, and monitored it up until it hit the internal temperature we targeted. Cleanup is simple, as the pellets leave almost no ash and the grill routes all the drippings to a small bucket hanging under the side. This is a great smoker with almost no learning curve. Experienced grill masters and first-timers alike will be able to produce delicious, smoky results.
---
―BEST VALUE―
MECO Americana 4-in-1
MECO's Americana 4-in-1 is an inexpensive, made-in-the-USA vertical water smoker with options for just about any occasion. It can be set up as a charcoal smoker, electric smoker, charcoal grill, or electric grill. As a grill, it uses just the bottom and the top sections—with or without the electric heating element. We preferred charcoal using it as a grill because we could manage the heat better, creating direct and indirect cooking zones. Using it as a smoker, however, our preference was to employ the electric heating element, with which we could maintain constant temperatures more easily. The Americana has a dial thermometer on the side, giving you a ballpark temperature reading at the center of the unit. When smoking larger meats, like brisket or chicken, we used a dual-probe thermometer with one probe in the meat and the other near the meat to monitor the temperature in the smoker. This unit has a large bowl for water that sits over the heat source—for either electric or charcoal operation. This helps to keep the temperature stable by shielding the food being smoked from direct heat. It also creates a more humid smoke that can penetrate and help prevent meat from drying out. Smoking on the Americana will require a little more attention and learning, but with the right technique will produce smoked food you'll be proud to serve.
---
―BEST PROPANE SMOKER―
Dyna-Glo Dual Door
The Dual Door 36-inch gas smoker from Dyna-Glo boasts a large 784-square inch cooking area, divided between four adjustable shelves. Despite the generous cooking area, it only takes up a 19 x 19-inch patch on your deck or patio. We found two advantages to using propane as fuel: One is the ease of adjusting temperatures—it isn't as reliant on vent adjustments, and the other is not having to add fuel, like charcoal, in the middle of a smoking session. Purists will probably want to forego the convenience, but we have to admit the propane did make things easier. The top door provides access to the smoking racks, while the bottom door opens to the water tray and wood chip box above the 15,000-BTU burner. When we smoked a brisket, we used the door-mounted thermometer to monitor heat, aiming to keep it around 225 degrees Fahrenheit, which was relatively easy. However, we weren't getting as much smoke as we would have liked, so we turned up the burner, and opened up the bottom vents to let more air in, as well as the top chimney vent to let more heat out. This helped quite a bit. We smoked beef jerky, trying to keep the temp at closer to 200, which was just a little more of a challenge to keep the wood chips smoking enough for our taste. We found using a thin layer of smaller chips worked best, adding more when the smoke started to thin. When everything was said and done, we couldn't notice a significant difference in flavor between the jerky smoked over propane from any of the others.
---
―BEST ELECTRIC SMOKER―
Smokehouse Products Big Chief Front Load
Smokehouse Products has been making the Big Chief in the U.S. since the early 1980s. The design has remained mostly unchanged, an example of the age-old adage, "If it ain't broke, don't fix it." Quite honestly, we found its retro, utilitarian appearance charming. Its boxy shape does exactly what it needs to do, and when smoking is done, it's easy to stow away in the shed or garage without taking up a lot of space. Originally designed for smoking salmon and trout, the Big Chief has seen broader use as smoking has become more popular. It is particularly good at maintaining a steady temperature—it reliably held about 165 degrees Fahrenheit during testing—which means that you'll have consistent results. We ran several batches of beef jerky through the Big Chief, and now we don't want to buy commercial beef jerky anymore. It takes about three and a half hours and two to three pans of wood chips to smoke a batch. The front-load unit has a small door to pull out the pan, so you won't have to let all the heat out to add more chips. Use it to smoke sausage, boneless chicken, bacon, steaks, fish, fruit, cheese, and more—citrus-marinated chicken cutlets were particularly good. But if you smoke bigger, thicker meats, like chicken on the bone or brisket, you'll want to move to an oven or grill after smoking thoroughly to cook to the target internal temperature.
---
More Great Options
---
Treager Pro Series 22
We love this combination grill and smoker from Traeger because it's easy to control the temperature, and there are no hot spots. The design favors closed-lid cooking, which is perfect for smoking. The Pro Series 22 uses compressed wood pellets as fuel and has an auger feed that keeps the pellets coming for continuous smoke. The smoker, like many of this type, requires electricity to run the auger and fan. "It's not actually a true grill, since it doesn't offer direct heat like propane or charcoal," says Pryles.
---
Kamado Joe Classic II
This grill separates itself from the competition thanks to Kamado Joe's Divide & Conquer Flexible Cooking System. The 18-inch grate is split down the middle, so you can adjust the height of each half and take advantage of different heat zones. The great things about Kamado-style grills is that they hold their temperature, so you don't have to babysit them. But that also changes the flavor somewhat. "It's essentially an outdoor oven, so the food can often taste roasty, rather than smoky," Pryles says.
This commenting section is created and maintained by a third party, and imported onto this page. You may be able to find more information on their web site.