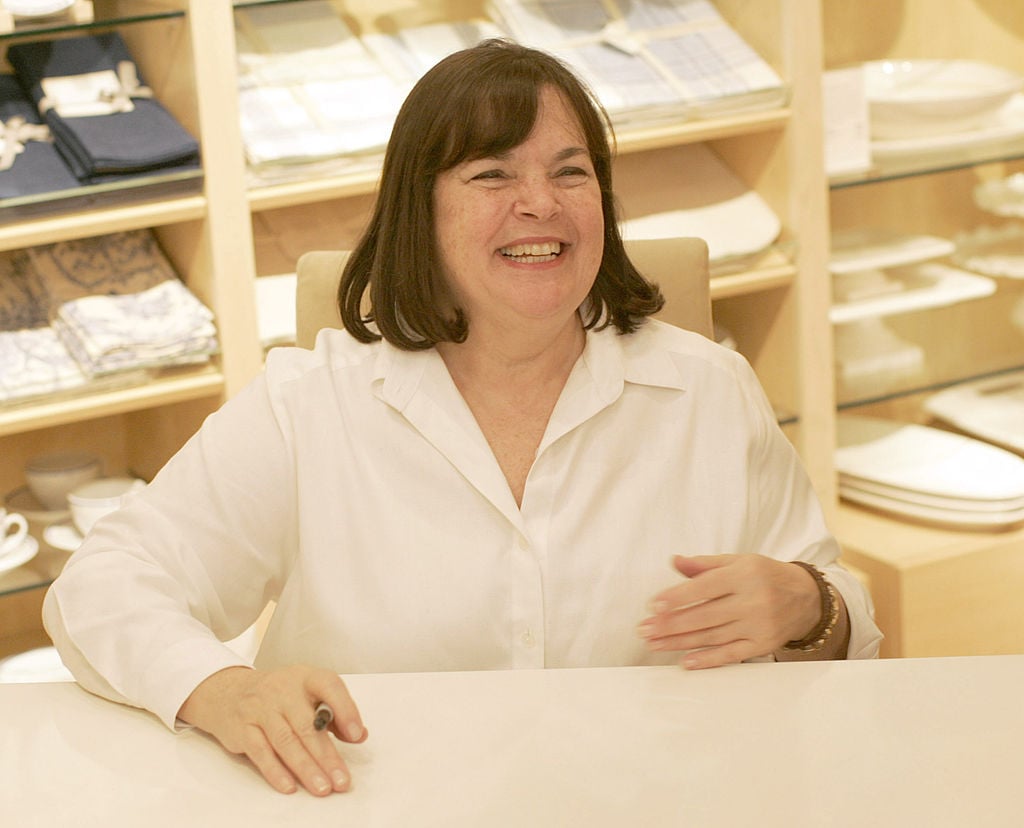 Which Daytime Emmy Does Food Network's 'Barefoot Contessa' Have The Best Shot At Winning?
Food Network star Ina Garten's cooking program, Barefoot Contessa: Cook Like A Pro, has been nominated for a Daytime Emmy in the upcoming 47th annual ceremony. Garten herself has also been nominated for an Emmy for Outstanding Culinary Host.
RELATED: Inside Jennifer Garner and Ina Garten's Unexpected Friendship
The event will be shown live – virtually – on CBS at 8:00PM Eastern time on June 26.
Ina Garten is nominated for 2 Daytime Emmys
Ina Garten, celebrated host of Barefoot Contessa, has taken home the trophy before. In 2009, 2010, and 2017, the Hamptons resident won each year for Outstanding Culinary Host.
This year, she's up for two awards.
In the Outstanding Culinary Series category, Garten is up against some formidable competition, including Food Network's Giada De Laurentiis-hosted Giada Entertains; PBS' Milk Street featuring chef Christopher Kimball; and two other Food Network offerings: Rachael Ray's 30-Minute Meals and Valerie Bertinelli's Valerie's Home Cooking.
And in the category of Outstanding Culinary Host, she's facing Valerie Bertinelli, Frankie Celenza, Giada De Laurentiis, and Rachael Ray.
The 72-year-old's Food Network show is one of the most popular on the cable channel. Garten could take home both Emmys, or at the very least, repeat her past success and win again in the Culinary Host category.
Ina Garten doesn't like to watch her own show and swears it's not scripted
Surprisingly, Garten says she's not a particularly big fan of her own show and insists she's not one of those celebrity cooks who enjoys watching herself over and over.
"I sometimes watch it for content but it's just painful!," she told The Huffington Post in 2018. "It's just painful. I couldn't even tell you what I'm most self-critical about — it's everything! I just keep thinking, 'What were you thinking when you said that?' or, 'You forgot to say this!' "
Garten also shared the fun fact that her shows are unscripted, demonstrating what a pro she truly is at creating a relaxed and warm setting on her programs.
"One-hundred percent of the dialogue is improvised," she said. "None of it is scripted. We work out when things go in the oven, so the food stylist can have things ready for me ― that kind of thing has to be scripted. But nothing I say is scripted."
Garten's appeal is 'earthy and elegant'
Just a year after her now-iconic show hit Food Network's airwaves, Garten spoke with the Independent Record to explain the philosophy of her show and her life, really.
"It's really about being elegant and earthy. I think the elegance comes from the simplicity, and the earthiness is just very simple ingredients. I don't tend to like fancy food. My style of food is to take really good ingredients and cook just to enhance them. You don't have to have white truffles and some spice that you got from India in order to have delicious food."
Her Barefoot Contessa brand, which fans clearly adore, judging by Garten's Instagram account, is all about keeping it simple and especially about enjoying the company that you're feeding. If the food you're making is so complicated that you can't enjoy your friends, Garten says you've got it all backward.
"You can make really delicious food that's really simple," she says. "There's no need to make yourself crazy. I would rather order takeout Chinese food and have my friends over than pass it up because I'm overwhelmed with the notion of cooking dinner for six people."
Watch the Daytime Emmys June 26 at 8:00PM EST on CBS